Motto of this section "Relax and be healthy". Wrapping, sauna and masseur sheets, bathrobes and terry towels covering deck chairs located by the swimming pool, are products that have become a necessity for these facilities.
Bathrobes of various qualities and designs, weight 210 – 450 gsm, made of a quality cotton material terry or waffle. Possibility to embroider a logo. Customer may choose a bathrobe with a hood as well.
Apart from swimming pool, the sauna facilities are also a good place for relaxing. In these areas, terry bathrobes, towels, slippers and waist-cloth are used.
Architecture of many hotels provides the guests an opportunity to walk directly from relax centres to hotel rooms. Velour or waffle anti skid slippers do serve this purpose. There is also an option to put the hotel´s logo on the slippers.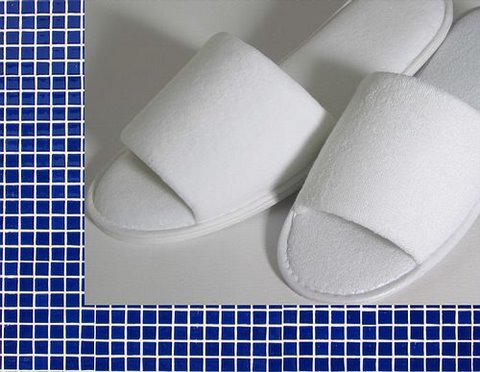 There are relaxing deck-chairs as a part of pools. We deliver a terry bathtowels – covers with folds on the back side on them. Standard size 76×180-220 cm, usually made to order.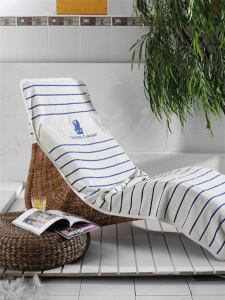 For luxury hotels and wellness centers we deliver wellness sets consist of a bag, bathrobe and slippers. These sets come in light wafle version, weight 210 gsm.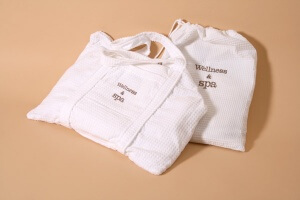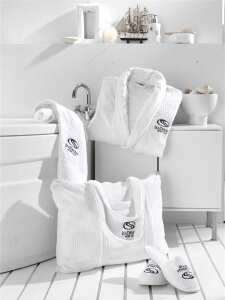 Wrapping, sauna and masseur sheets are usually marked with a colour stripe (printed or woven). They are made of cotton fabrics with higher density and weight, sized 150×120 (sauna), 150×240 and 220×240 (wrapping sheets) and 150/160×220 (masseur sheets). These sheets can be unicolour also (cream, beige, light blue, light green …).